Glass Jewelry

We are now able to fire your desired image onto crystal clear glass. Each piece is handcrafted individually and lasts for generations. If you are in any doubt this is the perfect gift solution.
Unique Pendants

We produce a variety of beautiful porcelain pendants, key chain, and miniature plaques for your desired application. These pendants are high quality, unique and visually enchanting.
Porcelain Portraits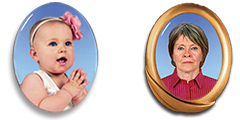 With the latest digital technology and our Italian patented ceramic toners, high-resolution digital images will be absorbed in HQ porcelain plaque that captivates with its appearance.